Two journalists killed by Israeli strike in Lebanon, broadcaster says | World News
]br>
Two journalists have been killed by an Israeli airstrike in southern Lebanon, the broadcaster they worked for has said.
Correspondent Farah Omar and cameraman Rabih Maamari worked for the TV station Al Mayadeen, which is based in Beirut and politically allied with the Iranian-backed militant group Hezbollah.
The strike also killed a man from the border village of Tair Harfa, according to Al Mayadeen's director Ghassan bin Jiddo.
In a live broadcast, he said his two employees would now "join the martyrs of Gaza".
Israel-Hamas war latest: Deal to free hostages 'very' close, Biden says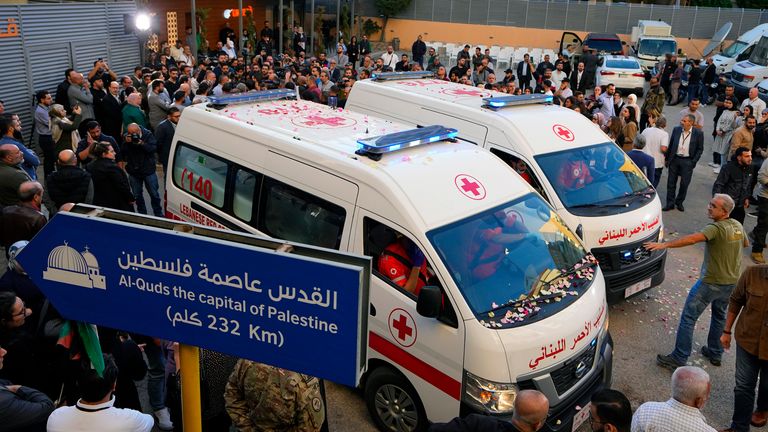 There has been exchanges of fire over the Israeli border with Lebanon since Hamas launched its attack on 7 October.
Reuters journalist Issam Abdallah was killed in airstrikes in Alma Shaab, Lebanon, on 13 October, according to Reporters Without Borders.
Its investigation concluded that the "targeted strike" came from the Israeli direction.
In a statement, the Israeli Defence Forces (ID) said: "IDF soldiers operated against a threat posed from a launching area of ​​the Hezbollah terrorist organisation, in the area of Al-Jabin.
"We are aware of a claim regarding journalists in the area who were killed as a result of IDF fire.
"This is an area with active hostilities, where exchanges of fire occur. Presence in the area is dangerous."
The incident is under their review, the spokesperson added.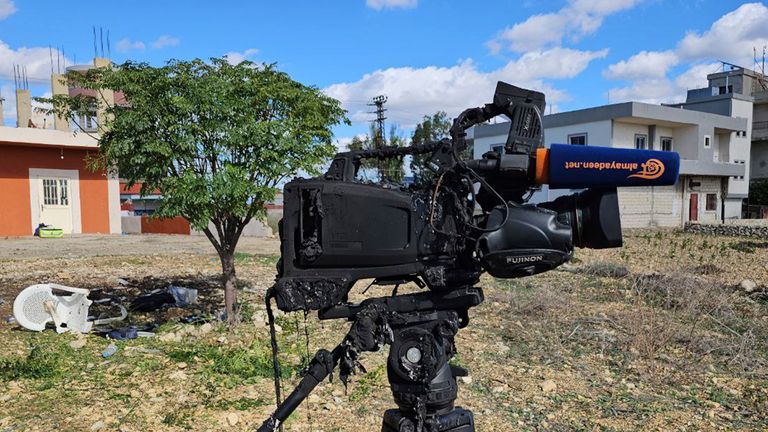 Those covering war appear to be being 'systematically eliminated'
A terrible realisation hit us when the news dropped about more Lebanese journalists killed on the southern border with Israel this morning.
We had met and talked to them as we were filming and gathering evidence about allegations that journalists and civilians are being deliberately targeted.
Reporter Farah Omar, who worked for Al Mayadeen TV and has appeared in the channel's promotional videos about covering the war, waited politely until we'd finished doing our filming.
We were interviewing journalist Samir Ayoub, who's still mourning the death of four of his family in an Israeli strike on the car they were travelling in. Then she approached me and we chatted.
She and her crew, like us, were clearly marked as media with flak jackets on and press badges stuck on the armour, front and back.
Journalism is a very dangerous job here and increasingly becoming riskier.
Those covering this war – in Gaza and in Lebanon – appear to be in the midst of being systematically eliminated.
As of 21 November, 53 journalists and media workers are confirmed to have died in Gaza: 46 Palestinians, four Israelis, and three Lebanese nationals, according to the Committee to Protect Journalists.
In Lebanon, there has been a string of attacks on groups of journalists over the past few weeks.
With Farah and her cameraman Rabih Maamari, plus the killing of Reuters cameraman Issam Abdallah a few weeks ago, the number of journalists killed in Lebanon has risen to three.
But those numbers don't take into account the terrible injuries suffered by those who've survived, who are still recovering from their wounds, some life-changing – as well as coping with the emotional scars that may never heal.
Read more:
Three sisters and grandmother killed in Lebanon
Analysis: Lebanon on verge of war with Israel
Palestinian and Lebanese security officials said Tuesday's strikes also killed four members of Hamas who were members of its militant Qassam Brigades wing.
A Hamas official said there were "number of martyrs for the Palestinian resistance", but gave no further details.