India: Footage emerges of 41 workers trapped for tenth day in road tunnel collapse | World News
]br>
The first images have emerged of 41 men trapped for a tenth day under a collapsed road in India.
It showed some dozen men in construction hats grouped around the blocked tunnel as they communicated with rescuers on the ground with walkie-talkies.
The video was taken by a snakelike medical endoscopy camera fed through a newly installed pipe used for sending food to the workers.
It was the first time in more than a week that the men received hot food, made up of rice and lentils, sent through the six-inch tube.
Until now, the workers have survived off dry food sent through an even narrower pipe, while oxygen continues to be supplied through a separate one.
Despite reports of some workers falling ill last week, authorities confirmed the group was safe, having also received water, medicine and access to light.
Mum's anguish over trapped worker


A psychiatrist sent to the site by the state government reported they had been "sleeping well" and advised them to occupy themselves with light yoga and regular conversations.
A landslide on Sunday caused a portion of the 4.5km tunnel in Uttarkashi, northern India, to collapse about 200m from the entrance.
Uttarkashi is about 160 miles (260km) northeast of Delhi, close to the Himalayas.
A huge rescue operation was launched but it was hampered when one of the drills digging towards the men was damaged.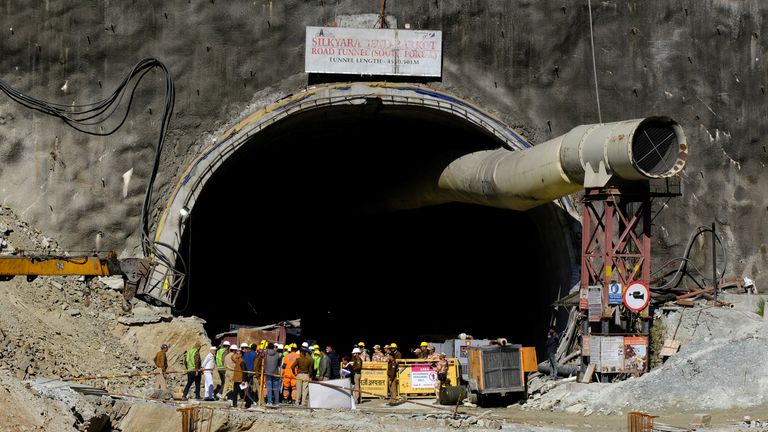 The machine's high-intensity vibrations caused more debris to fall as the rescue efforts were briefly postponed, to the dismay of family members who hoped to see their relatives.
Read more:
At least 39 dead after vehicle veers off mountain road
Pakistan and India shrouded in smog
Rescue teams will need to clear 103m of rubble to reach the men – nearly double the distance as the original rescue attempt.
There is hope to get a "breakthrough in the next 30 to 40 hours" according to Mahmood Ahmed, the head of the National Highways and Infrastructure Development Corporation (NHIDCL) responsible for building the tunnel.
Its construction is part of a flagship federal government project connecting various Hindu pilgrimage sites.
The trapped men are low-wage workers, most from poor states in the north and east of India.