Graham Linehan and cancel culture: Is comedy becoming bland? | Ents & Arts News
]br>
Graham Linehan isn't a stand-up comedian.
He is the writer of some of TV's most successful comedies – including Father Ted, Black Books, and The IT Crowd.
He spoke to Sky News after giving an impromptu set at a special night called Comedy Unleashed.
The night was born out of a notion that comedy is becoming bland, that all too often comedians are self-censoring.
Organisers defend cancelled comedians' right to offend, offering the likes of Linehan the stage when few others are taking his calls.
"People look at me and they see a kind of tragic story or something," Linehan said.
"It's been lovely, you know, to kind of get people laughing again."
The reason Linehan has ended up here is down to his outspoken views on women's and trans rights. He has defended single-sex spaces for women, believing they should exclude trans women.
"My conduct is often used as an excuse, you know, that I shouldn't have a career and stuff like this.…when people try and destroy the meaning of the words, like of words like woman and mother, I don't like it."
His bitter social media spats have come at a price – both personally and professionally.
The Father Ted musical he's spent years writing is now shelved. He believes that the production company Hat Trick which co-owns the rights doesn't want his name associated. Hat Trick Productions did not respond to Sky News' questions.
"It's like pre-emptive cultural vandalism, you know," Linehan said. "It's such a good show."
As a people we are, of course, more divided than ever so it's perhaps no surprise that this is mirrored within comedy, sometimes bitterly.
While cancelling comedians like Graham Linehan might hurt their careers, as he is performing at a sold-out stand-up night, it's not entirely clear whether it's hurting their popularity.
So is, as those behind the night believe, the comedy ecosystem today too preoccupied with being taken the wrong way?
Read more:
Comedy show held outside Holyrood after venues pull out
Linehan considers legal action over cancelled Edinburgh show
While the likes of wealthy comedians like Dave Chapelle and Jimmy Carr have both weathered storms of controversy – it is of course harder to assess the impact of cancel culture further down the food chain.
Co-founder of the night, comedian Andrew Doyle, is adamant there is a "creeping groupthink" within the industry when it comes to risk-taking which has to change.
"Comedy can't really exist without the potential to cause offence.
"People think that if you joke about race or joke about sexuality, then that is an endorsement of racist or homophobic views. It's a very kind of infantile idea. It's also a fundamental misunderstanding of what comedy is."
In five years, organisers say they've only had three audience members walk out, including one while Sky News was filming over a joke made about Islam. But that same audience member returned later after the act in question had left the stage.
But does comedy need to be confrontational?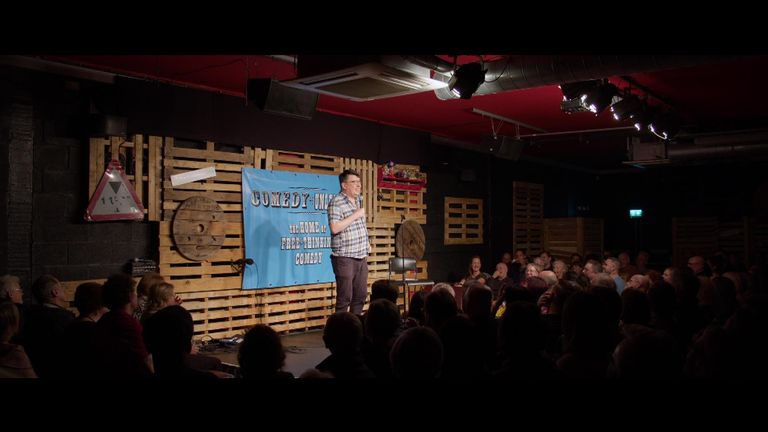 Quantum Leopard is an award-winning comedy night in London with a no-hate policy.
Its organiser James Ross has little time for those performers who whine that people are "not laughing because audiences are too woke now".
"There's a real tendency to blame factors outside yourself as a performer because they have massive exculpatory value. You know, it could be me, I could be one at fault, or it could be society. And in one of those you look bloody brilliant but in the other, you look weak, feeble, pathetic.
"It would be madness to expect that culture has just moved on in any way," he teases.
There is an irony, according to Mr Ross, to so-called "free thinking" gigs making fun of nights that set out to be inclusive and ensure audiences feel safe.
"They've created these bubbles in person and online, these communities, around these ideas and these practices in order to provide themselves with a safe space."